10 Free Games Like Stardew Valley
If you loved Stardew Valley but have played it all the way through, you need a new game with many of the same endearing features–and maybe even a few new ones! If you're looking for your next favorite free farm sim or want to branch out to giving city sims a try, here's the list of the top ten free games like Stardew Valley.

1. Family Island
This game is about a family of four who end up on an island and have to find farm-related ways to survive. Fortunately for them, they find some abandoned farm equipment and farm animals.
In order to get the farm working, the family must cut down trees, feed the farm animals, and maintain the equipment. There's also a traveling merchant who visits every few hours who they can trade with for other things they need–as long as they have something valuable enough to trade with.
The family can travel around the island and even visit other islands, but they are all limited by how much energy they have. Each family member starts out with an amount of energy that gets depleted as they do work and travel. Their energy reserves have to be replenished for them to survive.
Some amount of energy will be restored over time, but there are also ways to get acquire energy points more quickly, such as by finding a berry bush and having each family member eat some berries. 
Family Island is available on IOS and Android.

2. Klondike Adventures
How about some free farming in the chilliest regions of Canada? In this free farming simulator, you not only have to clear away trees and debris from the land, but you must also remove huge chunks of ice as you move through the game to expand your territories.
Similarly to Family Island, players survive on energy points and will become unable to perform tasks if their energy isn't given time or bonus points to replenish.
Planting and harvesting beans will be one of your main tasks, in addition to collecting eggs. It will also be your job to build a thriving village with all the best shops and homes for your neighbors. You can also craft and cook and trade your creations for other items.
Besides building and crafting and growing food, you will also be able to unlock various quests over time. Completing these will advance you further in the game and may unlock some other fun abilities.
Klondike Adventures is available on IOS and Android.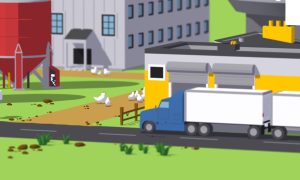 3. Egg Inc.
Unsurprisingly, the goal of Egg Inc is to become the most successful egg producer in the universe. That's right, the entire universe.
You begin in the pursuit of this goal by acquiring as many hens as you can. Over time, you can increase your hens' production rates by providing them with better hen houses, softer hay, and even nutritional supplements. Eggs will continue to be produced even when you're not playing the game, but the more you invest in building better incubators and hatcheries, the more eggs you'll have and the more they'll be worth.
Egg Inc. is available on IOS and Android.

4. Hay Day
Hosted by Greg, the farmer whose farm is displayed in the demo, this game is a really exciting one for players who like to get in deep. With every turn there's new animal to collect and raise, new equipment to buy and upgrade, and new goods to craft and to trade.
With more variations in all of the above, this game is perfect if you like to spend a lot of time exploring every creative corner of a game. And if you ever have a question or find yourself in need of a rare item, you can ask Greg for a little help. He's always got a helping hand and good to trade.
One especially unique aspect of this game is that there's a live marketplace full of other players selling goods in real time. You can buy and sell and haggle here. It's up to you to set the price for your goods, and up to you whether to make anyone a deal or tell them to scram. And if you want to try your hand at haggling for a deal from another player, you're welcome to give it a try and see if you can pull it off!
Hay Day is available on IOS and Android.

5. Farmville 2: Country Escape
In this game, you start out with two neglected buildings. One will be you home and one will be your barn. But you'll need a lot of supplies to fix these buildings up into decent places to live and work.
Like Greg in Hay Day, FarmVille 2 comes with the helpful Marie. You first meet her when she drives a delivery truck to your property to get you started with some supplies.
In order to begin planting crops, you'll first have to collect water. You can find a water supply in a nearby lake. Once you get crop production going, Marie will present you with an exciting quest book. You can participate in quests from the book or even in events in the local circus in order to advance your position in the game, win prizes, and earn points.
As you level up, you'll get access to better equipment, new kinds of animals, and new crop varieties.
In addition to trading goods in this game, you can also exchange letters with other players as well as watch other players build and manage their properties so that you can learn from them.
Farmville 2 is available on IOS, Android, and Windows Phone.

6. Township
Unlike many more rustic-style farming games, the point of Township is to turn your farm into a bustling metropolis. The game starts out with little farm and a few animals to feed and crops to maintain. There's also a small dairy farm and bakery nearby.
It's your job to modernize your tiny business by buying better equipment, producing more animals, crops, and products, and selling to more people.
Soon you'll open more stores and build a whole city with towers, gyms, museums, factories, and more.
Over time, you'll have the opportunity to discover and develop a mine, from which you can mine metals to construct tools to trade. And you'll acquire a boat and go out on an island-discovering trip. You'll find islands you can trade with and maybe even some to which you can expand your businesses.
Township is available on Android, iOS, Adobe Flash Player, Windows Phone, Macintosh operating systems.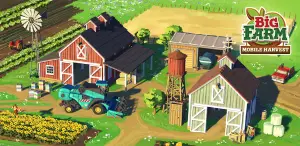 7. Big Farm: Mobile Harvest
This is another sim in which you can interact with other live players. In this game, you get to plant, cultivate, and harvest a variety of fruits and vegetables, as well as decorate your property with vintage farm buildings and even windmills.
Of course, there are also farm animals to care for as well. Horses, chickens, and pigs, just to name a few.
In this game, when you participate in games and quests, you can invite friends to play with you. Together you can overcome difficulties and build machines and buildings to earn points and prizes for your own properties.
One especially fascinating aspect of this game is that you can learn through the community aspect about farming methods all around the world. You won't only be limited to farming methods typical to the US–you can choose from a wide range of ways to care for your animals and raise your crops.
Big Farm: Mobile Harvest is available on Android.
8. Farming Simulator 16
The only 3D simulator in the lineup so far, this game boasts the most impressive graphics of them all. Not only is this a farm simulator, but it's a driving simulator all about driving farming equipment. Tractors, trailers, hay bailers–if you can drive it on a farm, you can probably drive it in thie game, too. This sim features vehicles and machines from over twenty brands of agricultural manufacturers, including New Holland, Case IH, Ponsse, Lamborghini, Horsch, Krone, Amazone, MAN and more.
If the graphics are more of a draw to you than the driving simulator, no worries. You can higher AI drivers to do all the driving for you.
Either way, you'll get to enjoy the beautiful graphics while you plant and maintain your crops, purchase, breed, and raise your animals, and build buildings.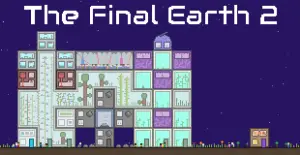 9. The Final Earth 2
This game is more of a colony management and city builder sim than a farm building sim. In case you're looking for a new type of free sim, this is a fun one to check out.
In this game, the earth has become uninhabitable, and people have dispersed to various locations in outer space. You and your future city are currently inhabiting a rock that's floating through space.
Sporting a 2D, side view pixel style, this game is also has a nostalgic retro feel. And in addition to constructing buildings and mining for materials yourself, you'll also get to direct citizens to help you. People will automatically continue construction on things you've started building, but you can also instruct them to work on a different project as you see fit.
This is a nice, casual game with a mix of city-building and resource management goals.
The Final Earth 2 is available on Android and Microsoft Windows.
10. City Creator
Another retro-style game with a pixel design, your goal in this city-building simulation game is to build a nice cityscape based on your personal preferences. There's no need to compete for resources or worry about supply and demand among your citizens. This relaxed, simple game is just focused on the building process and making it as fun and pleasant as you would like it to be.
Choose between three base cityscape styles. Drag and drop various features to exactly where you want them. You can even combine various building pieces from different building types to create intricate and unusual designs.
City Creator is available online.
I hope you've enjoyed learning more about these free games that are somewhat similar to Stardew Valley. You can check out more of my recent articles here.