Can Game Designers Work from Home?
If you're thinking about becoming a game designer, one thing you might be wondering is whether or not game designers can work from home. As someone interested in game design as a career, I did some research to find out more.
So, can game designers work from home? If you are a freelance game designer, you have the freedom to work from home if you want to. However, it can take game designers years before they build up the reputation and experience needed to successfully make a living by creating games at home. Designing games for a game studio requires frequent teamwork and communication, therefore, they often require their game designers to work on-site. 
If you're still interested in working from home as a game designer, then read on for the tips and tricks you need to know.
Working From Home As a Game Designer: How It Works
If your dream is to design video games from home, there are a couple of ways you can go about it.
Find Game Studio That Allows You to Work From Home
The first option for designing games from home is to find a game studio that will allow you to do so. However, this is easier said than done.
Getting any job in the game design industry can be challenging as a beginner, let alone finding a job that will allow you to work remotely. 
If you do want to work for an established game studio from home, your best bet is to make your reputation in the industry so outstanding that they'll be willing to negotiate the terms of your work location.
Establish Yourself In the Game Design Industry And Get Your Own Clients
Another option for working from home as a game designer is to simply do freelance work on your own. However, in order to do this, you will first need to be able to acquire clients.
Client's with the budgets to sustain a game designer's living from home will want to have total confidence that the designer they're investing in will be able to deliver the polished finished product that they desire. 
That said, you may need to spend quite a bit of time honing your skills and improving your game design portfolio before clients will be willing to work with you.
Being a Game Designer From Home: The Pros and Cons
As someone who currently works from home, I can tell you that there are definitely pros and cons when it comes to working from home, and working from home as a game designer is no different.
The Pros of Being a Game Designer From Home
Freedom to Set Your Own Schedule 
One of the best perks of working from home as a game designer is the ability to set your own work schedule. If you're a morning person or a night owl, you'll be able to work whenever you're at your best.
It's amazing what a 20-minute mental break can do for your productivity. Working from home grants you the power to work when and how you feel like it.
The Ability to Travel 
Something that I love about working from home is the ability to travel. If you work as a game designer at a large studio where you're required to be in the office, then your travel time might be limited to just a couple of weeks out of the year.
Working from home means you can take mini-vacations and trips to visit your family, so long as you can meet your deadlines and bring the work equipment you need with you.
More Control Over Your Workflow and Processes 
Working from home as a game designer removes all of the normal hoops you might have to jump through if you were working at a game studio. This means fewer menial tasks and more time to spend on the real meat of your work.
Fewer Distractions To Keep You Away From Your Work 
If you find 3 meetings a day distracting from doing your work, then you're not alone! Working from home or as a one-person team means far fewer meetings to keep you from your work. However, you'll still need meetings from team to time to communicate with your clients.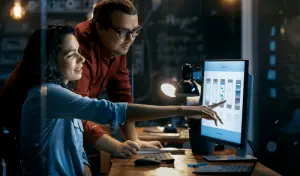 The Cons of Being a Game Designer From Home
Less Social Interaction
While there are a lot of benefits to working from home as a game designer, there are also a few drawbacks. One of the most difficult things you might face when working from home is loneliness due to a decrease in social interaction.
There are plenty of ways to stay social when designing games from home, but it will take intentional effort on your behalf to get out of the house and connect with people.
Increased Pressure 
Something else you might face when working as a game designer from home is increased pressure to deliver high-quality work. If you're working completely on your own, the success or failure of a client's game falls completely on your shoulders. If things go south, you'll have no one else to blame.
Financial Uncertainty 
Lastly, working from home as a game designer can often mean financial uncertainty. When working on a project to project basis, there are times when you might go several months between jobs. It'll take financial planning in order to ensure that you have enough money for your living expenses between projects.
Making A Living As a Game Designer From Home: Tips for Success 
If you're determined to design games from home, here are a few tips that will help you find success.
Develop Your Game Design Skills & Reputation Before Working From Home
This might go without saying, but before you can have a successful career designing games from home, you first need to be able to design a video game!  You'll need a plan for how you'll create and deliver high-quality games to your clients on whatever platform they want.
While there's a lot you need to know in order to design great video games, you'll be happy to hear that you don't have to have a degree to design games. Here's my article on designing video games without a degree if you'd like to learn more.
Learn How to Market Your Game Design Skills
In the video game industry, having the expertise to design a great video game isn't enough. You also need to be able to market your skills so that you'll have a steady flow of clients.
That said, a few ways you can market your services are by creating a website highlighting your best work, networking with other game designers, adding your information to online directory sites, and going to game design conventions. 
Knowing how you'll maintain a strong client base while designing games from home will make the financial side of game design far less stressful.
Have a Financial Backup Plan Before Becoming a Game Designer From Home
If you're thinking of becoming a game designer from home but you don't have a full savings account, I recommend waiting until you do. Working as a freelance game designer is an unpredictable job where some months might be far better than others when it comes to your earnings.
Having enough money in your savings account for at least 5 months of living expenses can be a lifesaver should you ever have a season without much work. This might sound intimidating if you're already living paycheck to paycheck, but you'll be amazed at how much you can save each month when you re-evaluate your spending habits.
Alternatives To Becoming a Game Designer From Home
If you want to work in the games industry, but you're not sure if you can make it as a game designer from home, here are a couple of other good options that you might find appealing.
Work At An Indie Studio
Many game designers enjoy working at an indie game studio as opposed to a larger game studio because it allows them to have a bigger say in the overall finished product of the game they're working on.
It can also be a far more relaxed work environment with fewer rules and regulations to follow as you design games. Working at an indie study can also alleviate some of the pressure of trying to design games on your own by having a team around you that you can help in any of your weaker areas.
While you still won't have quite as much freedom as a freelance game designer working from home, being apart of an indie game design team can be a good middle-ground for many.
Become a Video Game Tester
While very different from game design, another job you might consider is becoming a video game tester. Testing video games might sound like all fun and games, but actually requires a lot of repetition and a methodic approach.
You'll need to be able to track and report any bugs and glitches you find in an organized manner that allows game studios to quickly find and correct the problems you report.
Thank you for reading, and best of luck with your video game design career. For more reading, you can find all of my latest game design articles here.